The 40th Asian Conference on Remote Sensing (ACRS 2019)
18 Oct 2019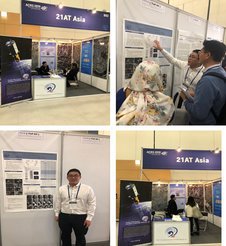 The 40th Asian Conference on Remote Sensing (ACRS) is an annual event hosted by member countries of the Asian Association on Remote Sensing (AARS). The conference will be a platform for participants from government, industries and academia to meet and deliberate on the latest advancement in remote sensing and related technologies. It also provides opportunities for exhibitors to introduce their latest remote sensing products, processes and state-of-the-art technologies.
ACRS 2019 was held in Daejeon Conventional Center (DCC) in Daejeon, Korea from 14 to 18 October 2019. This year theme was "Progress of Remote Sensing Technology for Smart Future" This event attracted more than 1000 participants and global companies participated as an exhibitor including us, 21AT Asia.
21AT Asia showcased Geo-Spatial platform for remote sensing integrated application and services. Our researcher, Mr Wang Xingjue presented his paper on "Comparison between UNet, modified UNet and dense-attention network (DAN) for building extradition from TripleSat Imagery!".
21AT Asia would like to say a big "Thank You" to those who came down to our booth! Any inquiry can reach us at enquiry@21at.sg.
See you guys in the 41st Asia Conference on Remote Sensing (ACRS 2019) in 2020 which would be held in Deqing, China!